Creator Spotlight: TnT-Productions



Meet TJ, otherwise known as TnT-Productions. TJ has shared many great creations with the SPORE community, and has quickly become one of the studio's favorite creators. This month we've decided to put TJ under the spotlight by asking him a few questions about himself and how he plays Spore!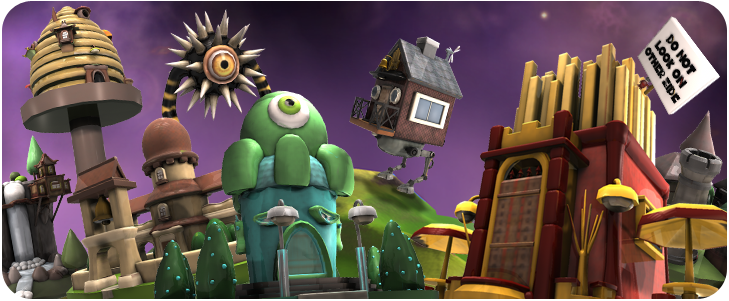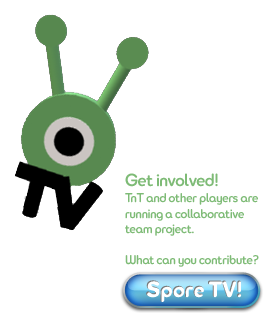 Name: Terje Søberg (I usually go by TJ) aka TnT-Productions
Location: Newport, Tennessee (moved here from Norway last summer)
Age: 33, but forever young :o)
You creations are awesome! Where do you get the inspiration for most of your creations?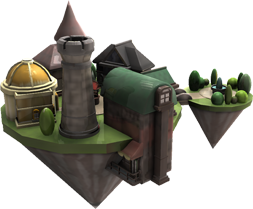 Mostly my own imagination, but I do find inspiration from other creations and other people's suggestions. I mostly try to create something that hasn't been created before, or something that I haven't seen created before. I do also get inspiration from cartoons, TV series, movies, books and even the news. There is inspiration everywhere if you look closely enough.
You get a lot of great ratings for your creations, as well as many comments. Have you made any friends through your creations?
I consider the whole community as friends, but I have to single out a few that was very helpful and supportive right from when I started out: First and foremost Gryphon57 for being helpful in every way and a real good friend, Sakiara for great support and for promoting me a lot on the forums, Rib640 who's a good friend from back in the Sims community, Aaarrrggg for her inspirational creations and for opening my eyes on what could be done within the creators, Ragat, masscolder, AIRAM59, Miothadil, Drubinsky, thetimefrog, Sensimelio, ODS7Recruit, Ghost92XI, Creator-Shadow, Aweirdgamer, Bdrx312, lazywnch, VCinc, Divim, Schmoe345, Pokemon332, Spin54, Unobtainium, blyon90, Xotly, Xatso, VIP00021, SteveTheBad, Msthang, Sungolden, Mootacoo, Kemeiki, TALK2myHAND, Orbisnonsufficit, Xyphore, Zonagirl, Newworldman75, Sayalle, TinyBits, Bugah, Ceece, Dominuse, Narado, Dimagio35, Antonius87, codyr2391, Ttoshg, Mattex, Rosana, RaverTiger, Meepichi & TorGowl for undying support and encouraging feedback (those are just the ones from the top of my head, so sorry if I overlooked anybody).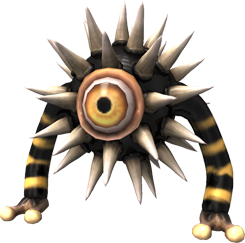 Everybody has been very friendly, and it is the community itself that is my source of motivation, so thanks goes out to everybody :o). Of course I won't fail to mention all of you at Maxis. Thanks for creating yet another amazing game! And, last but not least I want to thank my wife, Terry (The other T in TnT, my biggest critic and the one that pushes me to do better).
Looking through your 239+ creations, it's hard to pick out one that I like the best. Do you have a personal favorite?
I'm somewhat a perfectionist, so I find flaws in every creation I make. The first one I was really satisfied with was "Teutil", but it is hard to pick out one. I was also very lucky with the animation on "Duck and Cover" (somewhat a similar creature to Teutil). I think the community has favored the "Snowglobe Home". It was the most popular one of my creations last time I checked :o)
Which editor is your favorite to create in (creature, building, vehicle, spaceship)? Why?
These days I feel most comfortable in the building creators, as these gives you most freedom IMO, but I try to evolve in all the creators. I mainly like the building creators because you can build asymmetric, and it is the easiest way to tell a story. I'm also looking forward to the EP coming spring '09, where one can create missions. I see myself spending a lot of time doing that :o)
Many of your creations have a very stylized look - do you have a story behind your creations?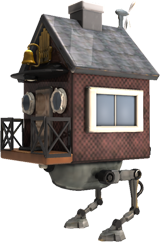 Yes and no! I think I try to tell a story with most of my creations, but I try to make some practical creations as well. I'm a big fan of comedy, as you probably can tell from several of my creations, and it is very giving when one can create something that makes someone smile or even laugh. The Spore creators are very open and user friendly, so only imagination sets the limits. I consider it to be the new Lego, suitable for all ages. You get basic pieces to work with, and you can create just about anything with it!
Your creations seem like they have gotten more complex as you continued to create. Do you feel your creations have evolved with time?
Well, it's natural that they evolve with time, as one gets more familiar with the creators and the parts you have to work with. Some ideas I had for a long time before even making them. When I learned how to do it, I went for it! I don't believe that complexity necessarily makes a better creation, and sometimes less is more.
It's all about what vision you have, and what you are trying to show or tell. If people are getting it, and like it, the goal is achieved. I still haven't used any mods or cheats to create something really complex (not saying that I never will), as I want my creations to be usable in the game. It's also somewhat of a challenge in itself to create something with the limits of "funds" and complexity that are there.
Is there anything you'd like to shout-out to everyone reading the Spore Newsletter?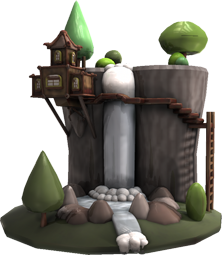 Visit The Sporum (the official forum) for help, inspiration and some great tutorials and how-to's. Also a great place to make some friends. If you have any questions, make a post. There'll always be someone there to help you out.
There are two keys on the keyboard that are easily overlooked and make a whole lot of difference (especially in the building creators). You can use SHIFT to move an object/part freely around horizontally without it snapping to center or symmetric placement to similar objects, and you can use the CTRL key to move an object/parts vertically without it moving out of place horizontally. Using this is a way to get things to float in mid air. These are not mods, but in-game features. Beware that they don't have the same use in the other creators.
Remember the golden rules of the creators: Experiment, experiment and experiment, and have fun while doing it :o)
Thanks for taking the time to answer a few questions for us to share with the Spore community!
I'm honored to be selected for something like this, so thank you very much for the opportunity!
View all of TnT-Productions Creations