Screenshots



Click and Drag to rotate view!
Galactic Edition SCREENSHOTS: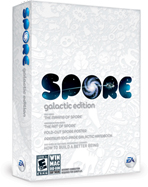 Buy Now
THIS EDITION INCLUDES:
RELATED GAMES
TO ENHANCE YOUR GAME,
CONSIDER ALSO:

expansion pack
A Collector's Item
The Spore Galactic Edition includes:
Spore Game DVD (PC/Mac compatible)

"The Making of Spore" DVD.

A behind the scenes documentary

"How to Build a Better Being" DVD.

Featuring Will Wright and Spore.

"The Art of Spore."

A 128-page hardback book featuring Spore artwork.
Exclusive 100-page

Galactic Handbook

Exclusive

Spore Poster

All in a collectible

'Spore Glyphics' hard plastic box
VIDEOS
Spore Galactic Edition
Get an inside look at the Spore Galactic Edition!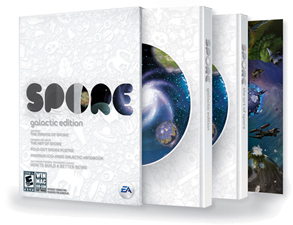 EXCLUSIVE SPORE POSTER INCLUDED: