Screenshots



Click and Drag to rotate view!
SPORE CREEPY & CUTE SCREENSHOTS: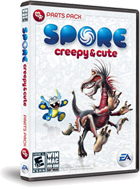 Buy Now
TO USE THIS PARTS PACK,
YOU ALSO NEED:
Expand your creature creativity, with over 100 new Creepy & Cute items
With Spore you can nurture your creature through five stages of evolution: Cell, Creature, Tribe, Civilization, and Space. Or if you prefer, spend as much time as you like making creatures, vehicles, buildings and spaceships with Spore's unique Creator tools.
With more than 100 new cute and creepy items at your disposal, you have even more power and flexibility to build the perfect creature. Create grotesque creatures with villainous mouths, tuberous eyes, and thorned plates, or go cuddly with big batting eyelashes, cute paws, and adorable details. You can mix and match 60 new parts in all for truly unique looks. Then apply one of 48 new paint styles, and bring it all to life with 24 new animations. And don't forget to publish your new cute and creepy creatures to share them with the world!
VIDEOS
Spore Creepy and Cute Parts Pack Video
Announcing the Spore Creepy and Cute Parts Pack!


SCREENSHOTS